Behind the Scenes of Moving Inland
Why I write it. What it's based on. What I think I'm trying to say.
Dear Friends,
I'm writing about writing what I wrote. It's a new idea that I'm trying out and I'd love to hear what you think. If we think it works, I might make it a habit: a kind of companion piece for each short story.
I don't expect you to read my writing with the same intensity and focus that I write it. I also think that to be a good writer, I have to express myself in a way that makes it easy for you to pick up what I'm trying to put down.
My friend Patrick Gilger, SJ tweeted some Thomas Aquinas quote (originally in Latin…) that got me fizzing.
You're the receiver. I think great artists have the power to create or affect your condition. I'm not talking about 'learning you' - I'm talking about writing so perfectly that you get sucked into the world I'm creating. That's what I'm trying to figure out how to do.
My friend Peter's response to Moving Inland made me happy
Peter's reacting to a part of the story that begins like this:
I tell her how my great granduncle dies at Auschwitz. He drops dead in a guard tower. Masha doesn't think this is a time to joke. Or tell the truth, I guess.
I'm flattered to think my writing is so convincing that Peter reads my narrator as me. Awesome. It also makes me feel a bit weird. Does Peter think I'm a twice-divorced American, published in the New Yorker who lives in a house on the Jersey Shore during the 2012 Hurricane Sandy which causes him to reflect on the circumstances that led to the greatest disaster of his life - the death of his only child? Or were those themes and stories less clear? Peter? What came across?
As a writer I always wonder if readers want fiction to be real. And what you mean by real?
I always wonder if readers would prefer something boring, that's historically factual, or something that isn't faithful to history or my lived experience, but delivers what I strive for - verisimilitude: truth to lifeness. Fiction that's more real than reality.
Here's a bit of Claude Monet's painting The Water Lilies (Agapanthus) triptych (1915-26)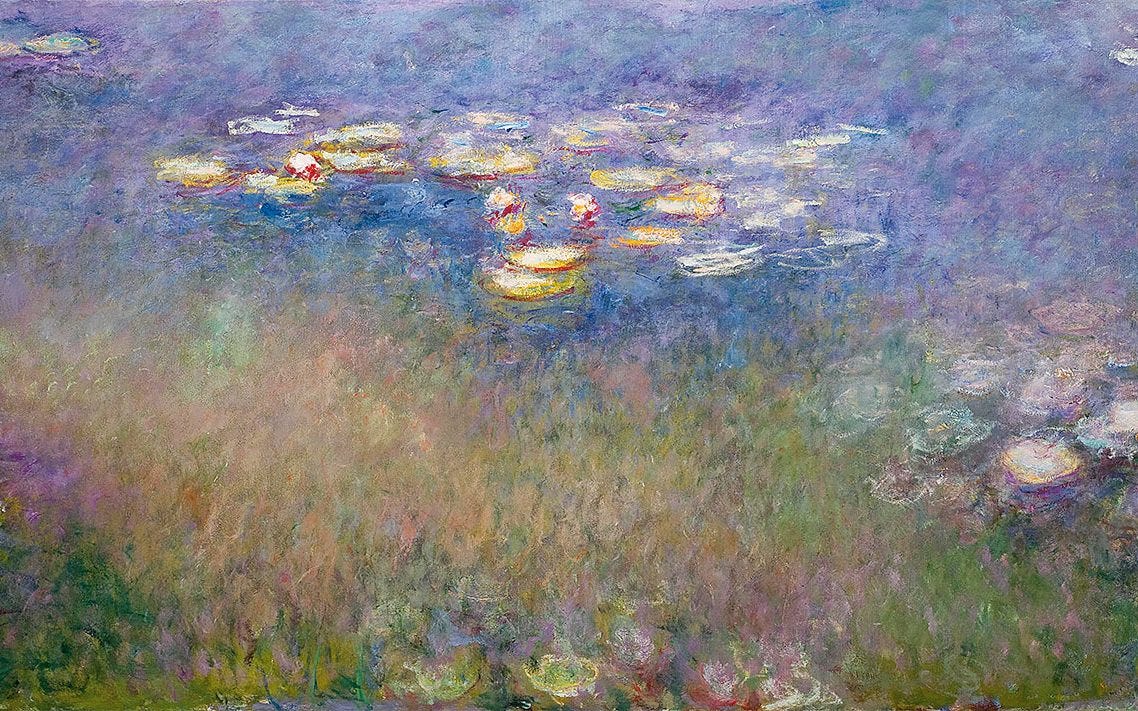 Here's a photo of pretty much the exact spot he painted it from: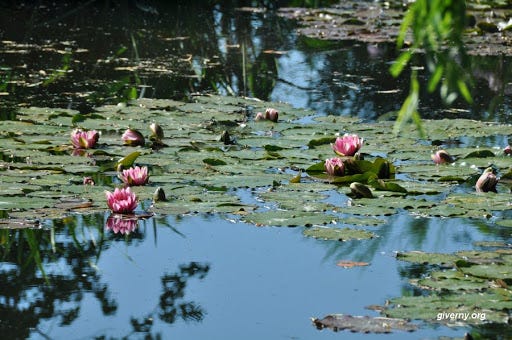 Which do you find more real? Which is more accurately evocative of a time and place? Which inspires more emotion? For me it's the painting. What do you think?
Anyway, it makes me feel a bit icky about Citizens of Nowhere's tag line - but I'm going to stick with it.
Real-life characters you won't meet anywhere else.
My first story Piri, Hone (and Me) is a faithful, if literary account of me and my mate going to visit the great poet Hone Tuwhare in 2002. I wrote it a couple of weeks ago from notes and a first draft from 2002, and memory, and whatever happens when you get in the zone as a writer. You can tell from reading it that I spent a lot of the time drunk and was vague on many of the facts even at the time. It's my impression. A memory of a memory. But it feels like the truth of that experience. I hope it conveys the feelings of that magical day and night I spent with my mate Piri, and one of New Zealand's greatest writers in his natural element.
The characters and scenarios from Moving Inland aren't specific people, exactly
But they're very informed by real life. I believe there's a reality to them. My inspiration for this story came from a question that's been on my mind recently because of COVID.
When's the right time to leave?
I'm fascinated by Jewish people who fled Germany in say, 1930 rather than 1941. What makes you pack up your life? Do you have to wait for the storm to hit? Or do you get out before. Once it's over and you've survived do you rebuild in place or get the hell out of there? I went to a lecture with Sally about a settlement on the Jersey Shore that was wiped out by Hurricane Sandy and FEMA came to the residents and said 'legally we have to offer to rebuild you by the sea, but the science says you'll be wiped out again within 20 years, so we would like to offer to rebuild you inland at no cost to you, what would you like to do?' They chose to rebuild by the sea. I'm fascinated by people who make choices like that. It seems more sensible to rebuild inland, but I wonder what I would have chosen?
Also, Sally and I left New York in a hurry at the start of COVID. We're in England now. We made our decision on that we needed to leave on March 18, we packed up our lives and were on a plane to the UK three days later. Sally had lived in NY 10 years, me the best part of 5. It was a massive call. We're relieved we made the choice we did when we did. I'll write more about it sometime. It was intense.
The Nazi Great Granduncle is kind of based on a relative - but not really…
Mine was a New Zealander, maybe my father's grandfather or great grandfather. He never went anywhere near Auschwitz. But he was buried on the side of a hill in Wellington where they wanted to put the Terrace Tunnel.
When the contractors dig into the ground above my Great Granduncle's grave they can't find his coffin. It's gone.
That happened. I think. All the coffins had slid underground down the hill. Maybe just a little bit. I don't think they could match the coffins with the gravestones, so they just buried them all in one place and scattered the tombstones all about in an aesthetically pleasing way.
Why I set a scene in Cyrils Fish House near Montauk, Long Island
The narrator is not very nice to 'Chairman Masha'. She's not very nice to him. I wanted to get inside her head to show a different side of her character. What made her happy. I also wanted to show how she had been hurt too. Something I often forget when people are mean to me.
Cyril's Fish House, Long Island, Summer 2002… Richard plonks two plastic solo cups on the table. Clear spirits for her. For him a BBC - Barcadi, Baileys and Coke. An alcoholic milkshake.
This is Cyril.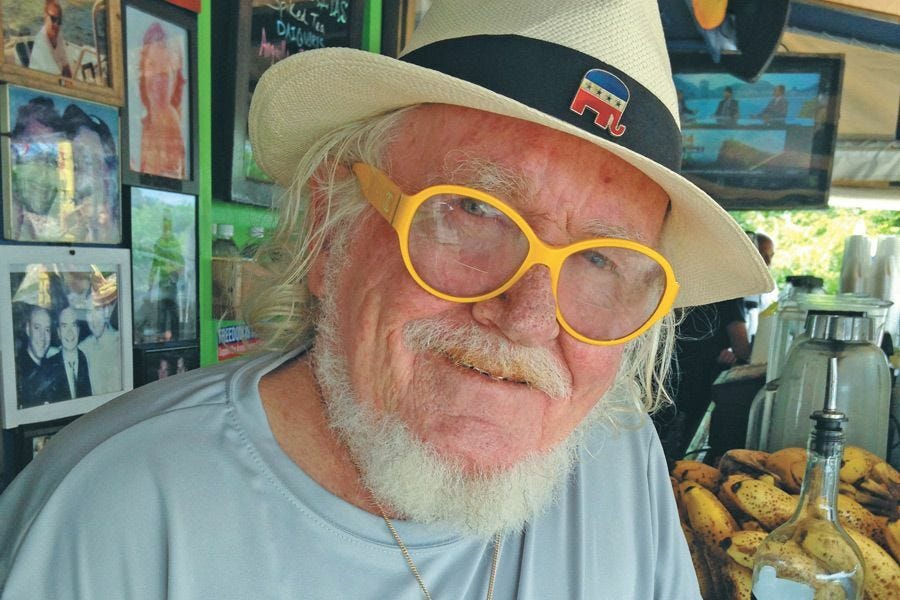 Cyril Fitzsimons was my aunt Nanno's husband Michael's brother. He ran that legendary place in Montauk where all the rich people went, and it was crazy because you'd think a rich person wouldn't go near the place. I went there once with Sally. It was a cash-only shack on the side of the road. But wealthy New Yorkers loved it. Seinfeld went there, it's alleged. It made a fortune. It got closed by the authorities for being too dangerous. Cyril died a couple of weeks ago. He's been on my mind. He was a hell of a character. I'm a bit gun-shy of writing about family directly, for reasons I'll talk about some other time, but if I get my courage up, I'll write about him. With so much love. Setting the scene there was a little treasure drop for people that know us both.
The character has been involved in emotional disasters before.
What I love about War & Peace which I haven't read, but I've watched the recent BBC series twice, is that the characters are at war and peace both physically (with Napoleon) and emotionally (love and pride and such). I wanted my narrator to face a physical natural disaster, and see him try to cope with it under the influence of the emotional disasters he's suffered, too - two failed marriages and the death of his only child. He responds to the emotional disasters by moving on. He responds to the physical one by staying put. I really wonder why?
My favorite character in Moving Inland is Chief Cam Coombs
The narrator loves him too. Cam is just one of those characters that emerges unexpectedly while I'm writing and makes writing a joy. He started as just a name, to show Masha being bossy - handing the narrator a police officer's personal number. How did she get it from Cam? Force it out of him? Is he like, her cop, or something?
Then, during the writing, I felt the narrator needed to get in touch with him. I bet he did it reluctantly. Cam came round and was the opposite of everything he could expect. Cam is the narrator's age - a conservative, religious, gun-toting family man who doesn't care for officiousness - he's cool! He's a lovely guy who I now suspect gave Masha his number because he cares for the people in his community, no matter who they are. I reckon she would have loved him and he would not mind being bothered by her about trivial matters at inconvenient times. Our narrator is devastated by what happened in the storm - and I think Cam can tell. But Cam doesn't try to talk it through. He helps him human-styles. He works alongside him to clean up. He drinks wine with him and they smoke cigarettes together (though I imagine Cam might be more of a beer man, and I suspect he doesn't smoke much anymore - he's got kids!). Cam trusts the narrator to hold his gun and invites this devastated man round to his own house - under the guise of getting help fixing a fence, but I suspect Cam wants the narrator to be around children and his wife. Not because it's good for them, but because Cam thinks it'll be good for the narrator. It's a portrait of mateship, friendship, mercy and the companionship that helps people through storms. Both physical and emotional.
That's not all I could say about this story. But I think it's enough.
You can read it here if you haven't already. Now I'm going to get started on the next one. It's about the life and death of The Special Patroller: my beloved free range hamster.
If you have anything to say about Moving Inland or this Behind the Scenes - why don't you write it in the comments? I really like the emails you send, but I'm trying to create a wider community here. So say it in public - even you, Ma, who emailed me after my first one to say
There was too much vulgarity in it for my taste - which you might expect I suppose
I did! Or hoped to. It was intentionally vulgar in parts, because that's what the story needed to convey. I'm glad you picked up on it and I know it won't cause you lasting harm. I love you, Ma!
See you next story!